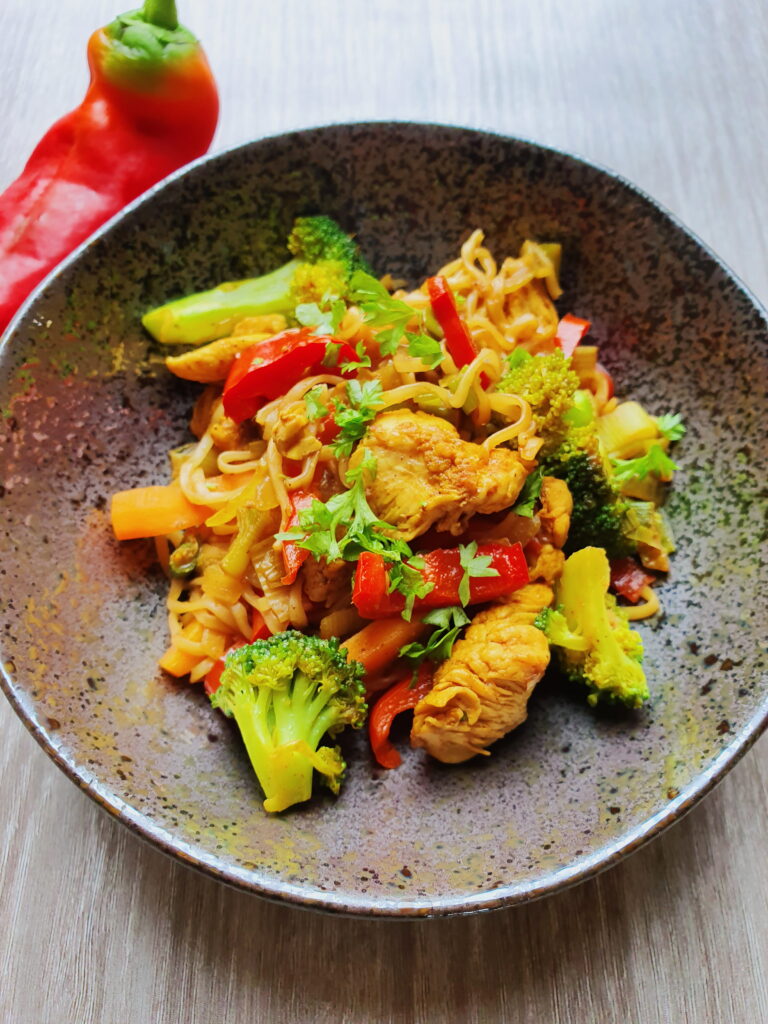 Julen er ved at være ovre og nytåret er lige om hjørnet. Med nytåret følger som oftest en masse nytårsforsætter og mange af dem handler om at dyrke mere motion, spise sundere og måske endda tabe sig. Vi bliver fra mediernes side bombarderet med diverse slankekurer og produkter der lover hurtige vægttab og sunde kroppe i løbet af ganske kort tid. Desværre er det oftest sådan med at de i bedste fald slankekurer kun virker så længe du følger dem, og når du vender tilbage til din gamle livsstil så vil du naturligvis tage det hele på igen. De mange forbud der ofte også følger med de mange alternative kurer kan på sigt desværre også give et forkvaklet forhold til mad, hvilket bestemt ikke gør noget godt for ens sundhed, hverken fysisk eller mentalt.
De fleste mennesker har på et eller andet tidspunkt prøvet en eller anden kur, men det er faktisk de færreste jeg møder, som har forsøgt sig med at leve efter kostrådene, hvilket jeg som sundhedsprofessionel, finder ret tankevækkende. Dette er også hovedårsagen til at jeg laver denne udfordring.
Min januar udfordring skal ses som et modsvar til alle de uholdbare slankekurer og quickfixes man får kastet i hovedet her i januar. I stedet vil jeg opfordre til en januar med sund fornuft og evidensbaserede råd om kost og motion. Udfordringen kan bruges uanset om dit mål er at leve sundere eller at tabe dig. Jeg har lavet en facebookgruppe der hedder Sund januar med kostrådene og Sund på budget, hvor alle der er med på udfrodringen kan støtte og inspirere hinanden gennem hele processen – jeg vil selvfølgelig også være aktiv i gruppen, og komme med tips og tricks 🙂
Jeg har kogt kostrådene ned til en lidt mere konkret udfordring der lyder på:
🥕 Minimum 600 gram frugt og grønt dagligt
🍞 Spis ca. 75 gram fuldkorn dagligt
🥩 Max 500 gram kød fra firbenede dyr (inkl. bacon, pølser og pålæg) om ugen
🐟 350 gram fisk om ugen (hvis man virkelig ikke kan lide fisk, kan denne springes over)
🥛 Vælg magre mejeriprodukter samt kød og kødpålæg
🍭 Kun slik og kage i weekenden
🏃‍♂️🏋️‍♀️🚴‍♂️ 30 minutters fysisk aktivitet om dagen + 2 x 20 minutter om ugen hvor man får pulsen op.
Herunder er de forskellige punkter uddybet, og du kan desuden læse mere om kostrådene samt tips og tricks på altomkost.dk
Minimum 600 gram frugt og grønt dagligt
Mindst halvdelen skal være grøntsager.
100 g grøntsager eller frugt svarer til en stor gulerod eller et æble.
Vælg især de grove grøntsager som fx løg, ærter, broccoli, blomkål, rodfrugter, kål og bønner.
Spis grøntsager til alle dine hovedmåltider, og spis frugt og grøntsager som mellemmåltider. Så når du nemmest op på 600 g om dagen.
Du kan læse mere om kostrådet om frugt og grønt lige her.
Spis 75 gram fuldkorn dagligt
Fuldkorn finder du i mad, der er lavet af kornprodukter, hvor hele kornet er taget med. 75 gram fuldkorn svarer fx til 2 dl havregryn og en skive fuldkornsrugbrød.

Vælg fuldkorn først – det er nemt, hvis du går efter Fuldkornsmærket, når du køber ind. Fuldkornsmærket er din garanti for et højt indhold af kostfibre og fuldkorn i brød, gryn, mel, morgenmadsprodukter, ris og pasta.

Vælg rugbrød eller andet fuldkornsbrød til madpakken.
Du kan vælge fuldkornsris eller -pasta som en del af dit varme hovedmåltid en gang imellem.
Du kan læse mere om kostrådet om fuldkorn lige her eller finde inspiration til opskrifter med fuldkorn på fuldkorn.dk.
Max 500 gram kød fra firbenede dyr om ugen
Spis højst 500 gram tilberedt kød om ugen fra okse, kalv, lam eller svin. Det svarer til to til tre middage om ugen og lidt kødpålæg.
Vælg fjerkræ, fisk, æg, grønsager eller bælgfrugter de øvrige dage og som pålæg.
Du kan læse mere om kostrådet omkring kødprodukter lige her.
Vælg magre mejeriprodukter samt kød og kødpålæg
Vælg skummet-, mini- eller kærnemælk.
Vælg surmælksprodukter, fx yoghurt, med maks. 1,5 % fedt og oste med maks. 17 % fedt (30+).
Hold igen med at bruge mejeriprodukter med højt fedtindhold, fx fløde og smør.
1/4-1/2 liter mælkeprodukt dagligt er passende i forhold tildanske madvaner. Når du spiser sundt, er der også pladstil 1-2 skiver mager ost (ca. 25 g) eller 1 skive fuldfed ost (ca. 15 g).
Vælg kød og kødprodukter med maks. 10 % fedt.
Gå efter Nøglehulsmærket, når du køber ind. Så sparer du på fedt, sukker og salt.
Spis 350 gram fisk om ugen
Spis fisk mindst to gange om ugen som hovedret og flere gange om ugen som pålæg.
I alt skal du gerne have 350 gram fisk om ugen. Heraf ca. 200 gram fed fisk som fx laks, ørred, makrel og sild.
Alle former for fisk tæller med, også fiskefrikadeller, frossen fisk, fisk på dåse som torskerogn, tun og makrel samt skaldyr som rejer og muslinger.
Vælg fiskeprodukter med Nøglehulsmærket.
Du kan læse mere om kostrådet om fisk lige her.
Kun slik og kage i weekenden
Selv kostrådet handler om skære ned på sukkerforbruget, uden at det betyder at man skal udelukke det fra sin kost. En sund kost kan sagtens indeholde sukker, så længe det er med måde 🙂 De fleste af os ville dog have godt af at skære lidt ned på vores sukker indtag, og derfor har jeg i udfrodringen opfordret til at man kun spiser det i weekenden 🙂
Skær ned på de søde sager og drikke både i hverdagen og på fridage. De fleste kan med fordel halvere forbruget af slik, sodavand, saft, is og kager.
Drik maks. en halv liter sodavand, saft eller energidrik om ugen og server vand eller Nøglehulsmærket mælk til måltiderne.
Køb ikke slik, kager og sodavand til lager. Når du har søde sager inden for rækkevidde, fristes du til at spise for meget af dem.
Spiser du slik og kage, så spis mindre portioner.
Du kan læse mere om kostrådet omhandlende sukker lige her.
30 minutters fysisk aktivitet om dagen + 2 x 20 minutter om ugen hvor man får pulsen op
Vær fysisk aktiv mindst 30 minutter om dagen. Aktiviteten skal være med moderat til høj intensitet og ligge ud over almindelige kortvarige dagligdagsaktiviteter. Hvis de 30 minutter deles op, skal aktiviteten vare mindst 10 minutter.
Mindst 2 gange om ugen skal der indgå fysisk aktivitet med høj intensitet af mindst 20 minutters varighed.
Fysisk aktivitet ud over det anbefalede vil medføre yderligere sundhedsmæssige fordele.
Aktiviteter med moderat intensitet er bl.a. cykling til arbejde, standarddans, rengøring og oprydning i hjemmet, almindeligt havearbejde, golf, skateboard, gymnastik, powerwalk osv.
Aktiviteter med høj intensiteter bl.a. løb, step, badminton, basketball, fodbold, squash, rugby, tennis, volleyball, håndbold, svømning, vandpolo, osv.
Du kan læse mere om anbefalingerne for fysisk aktivitet lige her.
Hvis du har spørgsmål til udfordringen skal du være velkommen til at skrive i facebookgruppen eller til Sund på budget.