Butternut squash suppe er en af min absolut yndlings grøntsagssupper. Butternut squash er faktisk et græskar, og er også kendt som moskusgræskar. Den har en mild nøddeagtig smag og er rig på a-, c-vitamin, kalium, calcium og magnesium 🙂 Du får altså en rigtig lækker og sund suppe med butternut squash.
Derudover skal vi have mine super nemme madbrød, der ikke skal hæve, men til gengæld smækkes i en kold ovn. Jeg elsker de her brød, fordi du kan lave lækre luftige brød til maden på bare 30 minutter, dvs. det kræver altså ikke den store planlægning – har du gær, så har brød på 30 minutter 🙂 Husk at dejen skal være klistret, nærmest grødaftigt, så kan de nemlig hæve rigtig fint i ovnen. Og så er det meget vigtigt at de kommer i en kold ovn, ellers når bollerne nemlig ikke at hæve op inden varmen slår gæren ihjel 🙂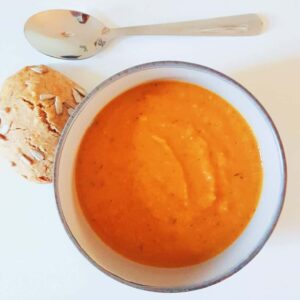 Butternut squash suppe med lynhurtige madbrød
Del via email
Ingredienser
1

butternut squash

4

gulerødder

3

fed

hvidløg

2

alm løg

1

spsk

olie

1

bouillonterning

7

dl

vand

2

tsk

timian

1

tsk

paprika

2,5

dl

mælk eller madlavningsfløde

salt og peber

evt lidt revet citronskal hvis du har
Sådan gør du
Start med at lave madbrødene .

Skyl og skær toppen af butternut squashen. Del butternut squashen i to (pa langs). Tag kernerne ud med en ske. Skær squashen ud i grove tern (den skal beholde skrællen på).

Gulerødder, løg og hvidløg skrælles og skæres i grove tern.

Varm lidt olie i en gryde og svtis grøntsagerne kort.

Tilføj vand, bouillonterning, timian og paprika, og bring det hele i kog.

Lad det koge til grøntsagerne er møre. Blend suppen med mælk eller mælkeprodukt.

Smag til med krydderier, salt, peber og evt. lidt revet citronskal.

Servér suppen med groft brød.
Ønsker du at se næringsindholdet på opskrifterne? Så bliv medlem og få adgang med det samme.n