I dag skal vi have en ret der emmer af sol, sommer og grillhygge – man kan dog sagtens være med uden en grill 🙂 Griller er nogen ferske pølser i forskellige smagsvarianter som Rema 1000 har i sommerhalvåret, og de serveres med en super lækker blomkålssalat, som er stærkt inspireret af den traditionelle kartoffelsalat. Velbekomme.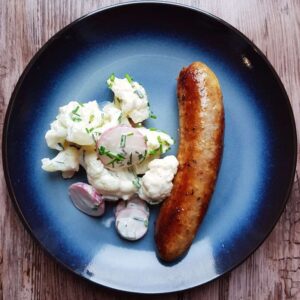 Griller med cremet blomkålssalat
Del via email
Ingredienser
Blomkålssalat
1

blomkål

1

bundt

radiser

1

bundt

purløg el. persille

2,5

dl

fraiche 5%

1

spsk

mayonnaise

1

tsk

sennep gerne

1

tsk

sukker

salt og peber

evt 4-5 drueagurker/pickles i fine tern
Andet
4

stk

griller,

1

pk

fuldkornsbaguettes
Sådan gør du
Blomkålssalat
Vask og del blomkålen i små mundrette buketter. Radiserne vaskes, toppen skæres af og resten af radisen skæres i tynde skiver.

Bring letsaltet vand i kog i en gryde, og kog blomkålsbuketterne 5-7 minutter – de skal stadig have en del bid. Køl blomkålen helt.

Bland resten finthakket purløg/persille, fraiche, mayo, sennep, sukker, salt og peber til en dressing. Har du en rest drueagurker eller lignende i køleskabet, kan du hakker 4-5 stykker og komme i dressingen – det smager super godt.

Vend den afkølede blomkål sammen med radiser og dressing. Stil på køl indtil den skal bruges.

Salaten er rigtig god til grillet kød, pølser eller frikadeller.
Andet
Steg (eller grill) grillerne som anvist på pakken. Lun brødet og server det hele sammen med blomkålssalaten.
Ønsker du at se næringsindholdet på opskrifterne? Så bliv medlem og få adgang med det samme.n